14 "Don't" Statements to Live By
Today i will tell you about 14 "Don't" statements to live by: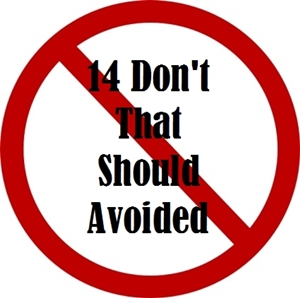 1. Don't wait for happiness to come until you smile. But smile, so you will be happy.
2. Don't wait until you are rich until you give to charity. But give charity, so that you will become more rich.
3. Don't wait to feel motivated until you move. But move, so that you feel more motivated.
4. Don't wait to be cared by others so that you'll care for others. But show care to others, so that they care for you in return.
5. Don't wait for others to understand you so that you understand them. But show understanding to others, so that others will end up understanding you.
6. Don't wait for inspiration until you finally write. But write so that inspiration presents itself eventually through your writings.
7. Don't wait for the project so that you'll start working.  But start working, so that the project starts to develop waiting for you to work on it.
8. Don't wait to be loved so that you start loving. But learn to love, so that love returns to you.
9. Don't wait till you earn a lot of  money so that you will live peacefully. But live peacefully, so that money doesn't have control over you.
10. Don't wait for an  example so that you will start to move to follow it. But keep moving so that you become an example for others to move.
11. Don't wait to be successful so that you can be thankful. But be thankful for your life and all the things that you have that others don't.
12. Don't wait till you are able so that you will do it. But do it anyway so that  you'll see what you're capable of.
13. Don't wait to be give. But in giving, you'll be given back more than you ever imagined.
14. Don't wait to be respected. But respect others, then you will be appreciated.