7 Ways To Make A Child Willing To Do Household Activities
As parents, you should not spoil your child continuously. Parents should teach make a child willing to do household activities that they learn to become an independent person. Children also learn important values such as good work ethic, working as a team and learning to help others.  Therefore, there are many benefits to teaching children early how to do housework.  We give you  seven strategies to help your child want to do housework: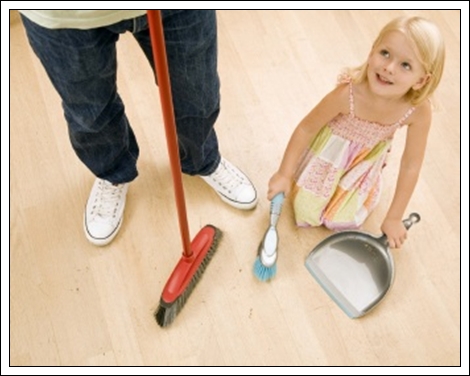 If children become too lazy to clean their own rooms, or put away away their dirty clothes in the laundry basket or  washing machine, or place shoes carelessly anywhere, then show them the consequences. For example, if your child becomes lazy when they wake up and don't tidy their beds, for example, it might mean they won't be getting breakfast. Or if they throw their clothes around carelessly, then those clothes will not be washed and the child will have to wear other clothes up to the point where they may run out of clothes to wear.
Do not scold children if they are not performing their household duties perfectly, but rather try to give them step by step instructions gradually so that they understand what to do.
Do not be sarcastic or mock the child
Do not use sarcasm, ridicule, or even scold your child excessively. Instead, let them know if you need the cooperation of the child to help clean the house. If they help you, say thanks and kiss your kids to show your appreciation. Praise them for their helpful behavior.
One easy way to teach your child to be disciplined and responsible is to give them pets. By caring for animals, the child should feed the pet, bath the pet and so on. The skills they learn from taking care of  a pet will help them enormously about work and responsibility.
When the weekend comes, you can invite your child to do household activities by forming a team. As a team you can all clean the house or arrange things around the house to make it look more tidy and presentable. Perform the routine activities with your child so that they are aware and willing to help tidy up and clean the house. They learn the value of team work.
Teach Your Child To Put Things in Their Proper Places
If their room are full of toys placed all over the room, try to get a system into place where things are organized and placed in the right places. Boxes are great ways of placing toys tidily and in an organized way. Teach your child to place things in the right places so that it looks tidy and organized. Therefore, the child can then find things very easily the next time they want to play with their toys.
It's a great idea to write up a task list of things that need to be done around the house. The children can choose which task/s they prefer to do at any given time. This is a great way to ensure that children are kept interested and are aware of the things that need to be done by referring to the task list. The list can be put somewhere where the children can view it easily. Perhaps you can set up a reward system where for every task they perform successfully, they obtain some type of reward. This will encourage them to house activities more willingly.