How To Look Gorgeous In A Dress
Dressing for formal occasions simply cannot be left until the last minute. Some of us put it off simply because we don't know how to dress. We ask ourselves: What's trendy? Should I even be trendy? What will look good on me? What jewelry do I wear? Should my shoes and bag match? To take some unnecessary stress off your shoulders, here are five tips to make your dressing-up decisions quick and easy.
Dress for your body type. This is hands down the most crucial component in creating your look for a formal, or any event for that matter. Here are the basic body types with tips from Lara Leff, Senior Assistant buyer for Bloomingdales in Bridge and Social Dresses.
Flat Chested: The most flattering neckline for your body type, and for many body types, is a halter. Definitely stay away from strapless dresses.
Hour Glass: Like the athletic and fill figured body types, you can go short or long. Lara makes a point of saying that a full skirt on the bottom is "necessary."
Pear Shaped: "Highlight your narrow shoulders with a strapless silhouette or one shoulder dress," Leff said. Also try to wear an a-line skirt to emphasize the smaller waist area and cover up your problem areas. Finally, try to avoid wearing light colors on the bottom half of your body.
Tall and Thin: Let's be honest, you can wear whatever you want. "What don't you look good in?" Leff said.

Athletic: If you have this body type you can go short or long. An empire style, which provides for more room around the waist, will be the most flattering. "Because of your body type, anything too fitted will be unflattering," Leff said.
Full Figured: Again, short or long will work for your body. Leff emphasized showing off your best assets, which for your body type might be your chest and shoulders. How can you do this? Buy an off-the-shoulder or low-cut dress.
Petite: If you're petite, then short dresses are the way to go. "Being able to show off your legs allows your body to appear longer," Leff said.
Less is more. "When accessorizing, always take off the last thing you put on," said the great Coco Chanel. "It's a great phrase to live by," said Leff, referencing the fashion queen. Keeping it simple is always a smart decision, especially with jewelry.
That being said, by no means should you completely rule out the prospect of accessorizing. Adding accessories on to your outfit is half the fun. "A great colorful clutch, statement earrings or necklaces and pins and brooches have all been seen on the runway for spring," according to Leff, who likes to wear either a statement pair of earrings with no necklace or just a necklace. If you're into following the latest trend, try to integrate metallic and shine into your outfit through your accessories. Looking for a way to make your accessories especially unique? Try strands of pearls, headbands, and flower pins. But shy away from big statement jewelry if the dress already has beading or jewelry of its own.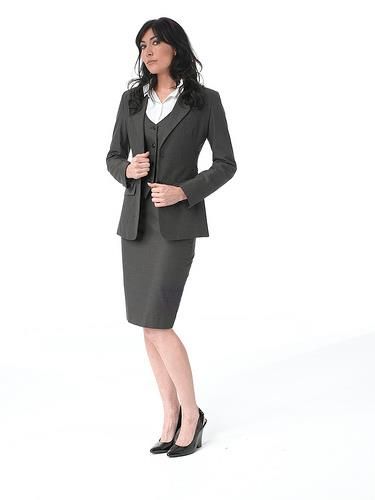 Take a risk. This tip is encouraged, but of course is not necessary. If you're unsure about taking risks, Leff encourages "keeping it simple with your dress and 'funking' it up with a colorful clutch or a great pair of shoes." Metallic shoes in particular look great with any dress. If you really aren't scared to take a risk though, try pairing a chiffon ruffle dress with a boyfriend jacket. "Our fashion office just came back from Paris and saw it everywhere," Leff said. A leather bomber is another interesting great piece over a dress as well. Sometimes being risky means being willing to follow the trends on the runway right now, which means short, flirty party dresses in bright colors. This "Gossip Girl-inspired look," as Leff referred to it, is a great way to stand out from the crowd and make a statement. Already preparing for spring formals? Leff believes in Grecian inspired dresses. "Either chiffon draped gowns or sexy jersey dresses with lots of ruching."
The little black dress is always in style. This is a great piece to always have in your closet to fall back on. In fact, it is the piece to keep in your closet at all times. Lara put it best when she said "every girl needs one." You really just can't go wrong with a dress so classic, and it's nice to know that you own a piece that will always be in style. Want to update your little black dress look? Wear bright colored shoes, suggested Leff.
Purple is no longer just for school spirit. While the color purple will always hold a special place in our hearts, some of us may feel a little bizarre wearing a purple dress to a formal for the simple reason that people may assume we're just doing it out of school spirit. Set these worries aside: Purple is huge this fall. Buy a purple dress and show your purple pride. And hey, someone may just think you know a thing or two about fashion.