Makeup Tricks that Slim Your Face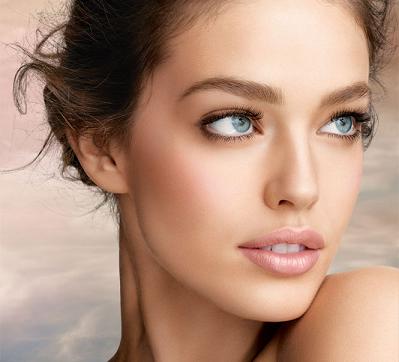 Do you wish to have a longer face shape or a slimmer-looking face?  Most people nowadays find it easier to resort to plastic surgery in order to have a slender and spotless face.
Did you know that it's just as easy to apply makeup tricks to create the illusion of having a slimmer face? Makeup is certainly an inexpensive and pain-free option to achieving the look of having a slender face. It's quite amazing how the right makeup when it's applied properly can reduce a few inches off your face.
First of all, why not pay a visit to any cosmetics counter at your local department store for a complimentary makeover? Take advantage of the free professional advice. Most cosmetic companies will have their own in-house make up artists who have been trained to offer you the best solutions for creating the illusion of a slimmer face. Make up and its use in creating a slimmer-looking face is an art form in itself. Makeup artists have also been trained to use correct lighting to recommend products that complement your skin tones. They also know the best tricks on how to play with the proportions of different face shapes. We're about to share their secrets with you.
Basically, the secret to creating the illusion of a slender face and at the same time emphasize your best features is to follow the basic guidelines and apply the appropriate makeup products to the critical spots.
Experiment with Your Blush – Play with the Cheeks!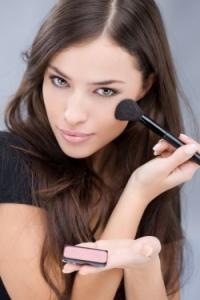 To achieve a clean, smooth canvas, follow your normal skin care routine and apply foundation, powder and concealer.
A round face and chubby cheeks deserve attention. The key to look slimmer is to juggle with proportions and shadows. Use the magic of the blush and play with some blush tones.
First of all decide upon the tones, if you belong to the warm and rosy skin tone category choose blush from this group. Peachy skin toned people should opt for the selection from the other category..
Next, experiment with your blush. A combination of shadows and shades will help slenderize your face. A blush duo will work best, with one color being slightly darker than the other. Use the lighter color as a foundation on the apples of your cheeks. This foundation will ease your cheeks into the dramatic effect that will be achieved with the darker shade. After you're happy with your glowing apples, apply the darker version of the blush diagonally. Sweep up quickly, ending just before your ear. This will create a natural shadow and draw attention up, not across your face. If it looks like you just dabbed on war paint, use the tip of a tissue or small brush to feather the colors together. Keep practicing. You'll get better!.
Work with the Eyes!
If the goal is to make your face look slimmer overall, then it's paramount to shift the attention from the disproportions of the face by accentuating our eyes.
Choosing the best eye shadow and eyeliner combination is determined by both eye color and shape.  This means giving special emphasis to the inside corners of your eyelids. Apply a light shadow all over your lids and then let a richer color create the slimming effect. Give more coverage to the part of your lids closest to the bridge of your nose.
The same rules apply for eyeliner and mascara. Go heavier on the inside and use sparingly as you approach the far corners of your eyes.
Those who swear by the miraculous effect of makeup will advise you to concentrate on the outer corners of the eyes. Applying the best shadow that complements your eye color will draw the attention form the cheeks which tend to hold most of the extra-inches.
Look at Your Lips!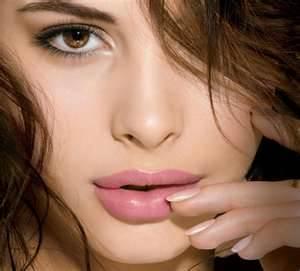 We shouldn't forget about the lips that are just as important as the eyes. In order to shift the attention from the cheeks it is essential to dress up the lips with a sensual and flattering hue. Plumped lips work miraculously with the face slimming makeup. This can be best achieved if you apply a lipstick shade that complements your skin tone and finally add a drop of lip gloss. The shiny look will upgrade your whole appearance.
Add some nice extras!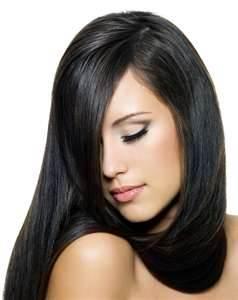 Once you've mastered your makeup, consider a slenderizing haircut and new jewelry to maximize the slimming effect. Shaggy or wispy hair is a better option than a blunt cut or big round curls. Add some volume or highlights to your crown to keep focus on that invisible line. Consider lengthening your jewelry too. Hoops, round discs and flat earrings are bad choices if you're seeking a slim look. Instead, opt for teardrop or dangle earrings. Swap the chokers for longer strands of beads. Taken together, these small changes can add up to one long face!