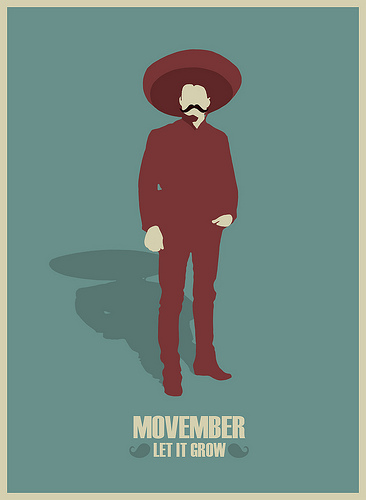 As usual, Movember is back this year again. If the term sounds puzzling, it is because it is a portmanteau of 'mo' for moustache and 'November'. Movember is organized every November to 'change the face of men's health' and it is a month long awareness campaign aimed at raising awareness around prostate cancer and testicular cancer.
The strategic goal of the Movember Foundation is of course to promote regular tests, diagnosis, early detection, and thereby an increase in survival rates of men with testicular or prostate cancer. Men are encouraged to investigate family history and focus more on their well-being by habituating themselves to a healthier lifestyle. Moreover, the goal is to fund prostate and testicular cancer research as well as clinical trial research in order to increase the effectiveness of the prognostic tests.
One of the current global aims this year is centered on developing a test that is able to identify specific types of prostate cancer, and thereby ensure more appropriate treatment.
The main aim of the campaign is to grow a moustache of course. There are certain guidelines that must be followed if registered on movember.com. Each so called Mo Bro must start the 1st of November, and gradually grow a moustache starting with a completely shaved face. The moustache must not be connected to the sideburns, otherwise it will be considered a beard, and the handlebars cannot be connected to the chin either, or the moustache will be considered a goatee.
The Movember Foundation has run awareness events in New Zealand and Australia since 2004 but the campaign has since then spread to the United Kingdom, Ireland, The United States, Canada, Denmark, Spain, Czech Republic, Israel, Taiwan, and South Africa. All over the world, at the end of Movember, a series of Gala Parties take place; contestants compete for titles such as Best Mo in Character, Team Mo, Miss Movember and, of course, the ultimate accolade – Man of Movember 2012. In the UK, the party in Belfast is celebrated on 28 November, and the party in London is celebrated on 30 November. While in the US the party in New York will be celebrated on 1st, so guys if you are up for spreading awareness for a good cause, grow em' moustaches next month!
For more information visit: movember.com
Image Credit: Flickr.com