New look of Google Play Store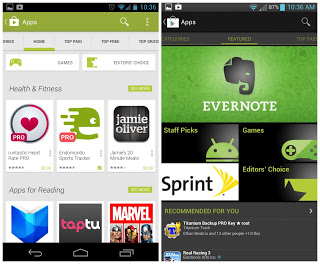 For android users certainly already familiar with Google Play Store. Originally this apps released by Google named Android Market. And now Google do update the User Interface of the play store into Google Play Store version 4.0.25
The latest update of Google play store has a more clean and fresh display. Also the view of application icon and also the detail of application is more big so that users are more comfortable for browsing.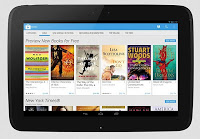 In each application bar there is a shortcut for easy download that are the shortcut for "Add To Whist list" if you want to download it at a later time, and shortcut for "Buy" for paid apps, as well as shortcut "install" for applications that can be downloaded for free.
Other changes can be seen in the setting of "auto-update apps" there is options like "do not auto-update apps," Auto-update apps at any time "and" Auto update apps over Wi-Fi only ".
You can also add a password account to download paid applications and games, it is important to limit the download paid applications made ​​by other users, such as children or friends and relatives who happen to use our android gadget.
If you have difficulty to automatically update your Google play store, you can manually download the following:
1. Download Google Play Store 4:10:25
2. Install and replace the old Google Play Store
3. Done!