Parents need IT skills to help children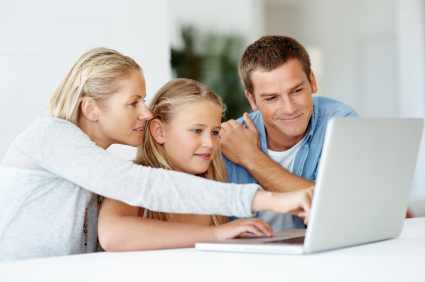 Parents need to boost their computing skills so their children are not left behind with their homework or school studies, a recent report claims.
The report, commissioned by NBN Co, the builder of the national Australia broadband network, says 45 per cent of parents feel they are unable to solve problems their children have in searching for information online.
The Learning in the Third Millennium report confirms this is a regular occurrence for around 11 per cent.
Most parents (96 per cent) of the 1004 surveyed during May 2012 understood the importance of the internet to help their children's education, it says.
Professor Stephen Heppell, an English educator who supports the use of information and communications technology in teaching, says many parents have made the leap to embrace online learning, particularly in the past five years.
He says the role of learning at home is changing in nations where high-speed broadband networks connect homes and schools.
"Homework becomes the time for self-directed discovery in exciting online worlds, where students can collaborate via the internet with real authors or scientists as well as each other," he said.
A member of the NSW Parents' Council state executive, Philip Argy, said the link between home and the internet was becoming more vital to children's learning.
Parents had to learn more in helping their children benefit from the information superhighway, Mr Argy said.
"My experience shows that many parents do not feel up to that task and part of our work at the Parents' Council is to help parents to understand the important role internet-connected learning has in their child's education, instead of being sidelined through technology mysticism," he said.
Around 87 per cent of parents said their children were using the internet at least weekly for homework, research or educational games.
The daily usage on the internet rose as children became older, from 25 per cent among primary school children to 44 per cent of those in high schools.
Professor Heppell said the overseas experience showed that where students had access to high-speed broadband networks in areas such as Scandinavia, Korea and parts of the UK, it helped prepare them for global jobs.
Under the government's $36 billion project, NBN Co is charged to deliver high-speed broadband via fibre-optic cable to 93 per cent of homes, schools and businesses across Australia by 2021.
Another four per cent will be covered by fixed-wireless technology while the remaining three per cent will receive broadband services via satellites.
(Source: AAP)