Postman – a simple but easy Facebook application to upload Flickr photos to Facebook groups
Here we go! Postman is ready to post all your pictures directly from your Flickr to your Facebook group(s). Use it to believe it !
Thanks Hasin Hayder and Leevio for this great app.
We are excited to review this easy Facebook application for you with our tutorial. This will show you how easy this application is to use!
Postman is really easy like a real postman! You don't believe ? Here are the simple steps which will show you how to use this postman to post your picture in Facebook from Flickr. Then you will believe 😉
 We hope postman website is looking something similar as in the picture above. If they have changed then you are using the latest version. Be Happy man!
The only thing that I didn't like (actually feel uncomfortable) are the popup connect windows to Facebook. Hope it will be connecting using Facebook button in future.
Anyway, if your browser prevented the popup, please click on the button Connect using Facebook. Now you will see a pop up like all other Facebook application which is going to ask your permission. Allow anything and everything. They are not going to ask for important details 😉
 Now, you are going to see the screen like the picture above. So, what you have to do is just hit the Connect using Flickr button!
Now as in the picture above, ball is in the court of Flickr! yes Authorize the Facebook app from Flickr. Voila! If everything goest perfectly you will see the next screen as in the next image below.
Now select your desire picture or picture(s), The color of the selected picture will become Green as in the image below.

Now Hit button named Post on my wall (if you want to post in your wall) or Post to Facebook groups (For posting in single or many groups). You can even load more photos using Load more photos. Before that don't forget to check I agree to the Terms and Condition (as usual).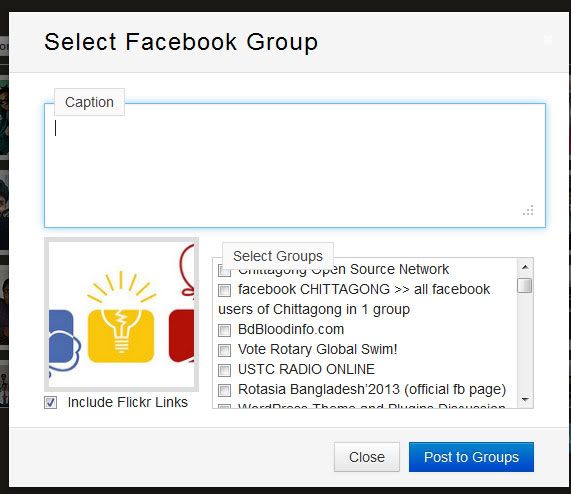 As in the image above, Write a caption. By default you will see the name of the file of your Flickr image. Select the groups if you have chosen to post in groups. You can select as many group as you want. Even all of them !!!
You can include your Flickr link or just un check the button named Include Flickr Links to make a fresh Facebook looks.
Now Final step, Go to all Facebook groups and see by your eyes to believe it what you have done with this postman!
Thanks for reading. Comment any ideas or thought or anything you want me to write for you!