Robots Restaurant in China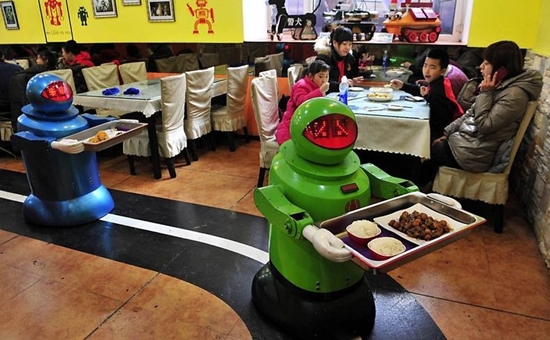 With the Advanced technology people has been able to replace human labor. In downtown Harbin, China. There is a restaurant that employs 20 robot chefs and waiters in that restaurant. These robots are really advanced, these robot can even cook a variety of foods such as noodles and dumplings.
This sophisticated restaurant opened in June 2012, and since that time it has become a crowded restaurant in the capital of Heilongjiang province to visited.
With your first entering to the restaurant, you will be greeted by the Robot that will invite you to enter in the divine restaurant by saying this words, "Earth person hello. Welcome to the Robot Restaurant".
The restaurant visitor then write down the order for later cooks by the four of robots chef. After cooked, a human waiter would put the tray of food into the arms of robots for delivering to the customer table. While enjoying the meal, the waiter robot is also going to  sing to entertain visitors.
This Restaurant equipped with a conveyor belt as the track runs for robots to deliver food to the table. Robot as high as 4 to 5 feet, can display 10 different facial expressions. They can work continuously for 5 hours after that they need charge for 2 hours.
So must visit our charged Robots Restaurant.