Tag Someone with a Different Name on Facebook [2013 Working Trick]
Have you ever seen a particular Facebook Fan Page posting blue text arts linking to its wall and tagging their page with some different but attractive names to catch users attention? Some of you folks might have seen this. A few days ago when I was roaming on Facebook, I saw a page being tagged a multiple times in a same status. I researched about it as I couldn't do it by myself as tagging is only allowed once. But I heard a trick to tag someone with a different name on Facebook but that trick is not working now as Facebook patched it. However, with a little googling and also trial and error, I found the same trick is working again but with some conditional change. Also, those of you who love Text arts like memes can also do it quite easily.
Now the solution is quite easy.
To tag someone with Different name on Facebook ( it works for profile and also pages) , you need the below code. The older trick which we used to tag someone with different name is now working when the same page is tagged originally. Paste the below code in your Facebook status and post it.
@@[0:[PAGE_OR_PROFILE_ID:1:CUSTOM_TEXT]] @[PAGE_OR_PROFILE_ID:0]
How to get ID of a Page or a Person?
Here, PAGE_OR_PROFILE_ID is the ID of your Friend's profile or Facebook Page. If your Friend or Page has a username instead of an ID, you may get by navigating to this URL by replacing your Friend's or Page's username. Replace the below URL with the USERNAME of profile or page.
http://graph.facebook.com/USERNAME
Replace the ID with PAGE_OR_PROFILE_ID. And now, the second part of the code to be replaced is, the CUSTOM_TEXT. Enter any text and it will show up your custom text linked with a specified PAGE_OR_PROFILE_ID after posting.
Suppose, you want to call a person with a funny name and tag his or her own profile. This applies not only to Facebook profiles but also to Facebook Pages.
Example, see an example how I entered to call myself with a nickname in the below picture. Just created this picture for testing and not for any funny purposes.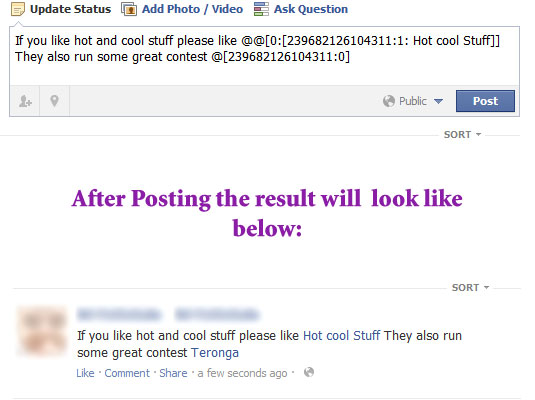 Share your comments here. How did this trick work for you?