Teronga Inspirational Exclusive: A Global Platform for Students Community – project by some young entrepreneur
Unicampuz is a global platform for students community for sharing education and educational resources among students and teachers. Unicampuz is a platform where they can bloom themselves by sharing their merits and thoughts. We have lots of community platforms but for students we have nothing. Also there are lots of communities where students are wasting their important time. So, the main target of Unicampuz is to develop a platform where they don't have to waste time but rather they can share their knowledge to spread their merits.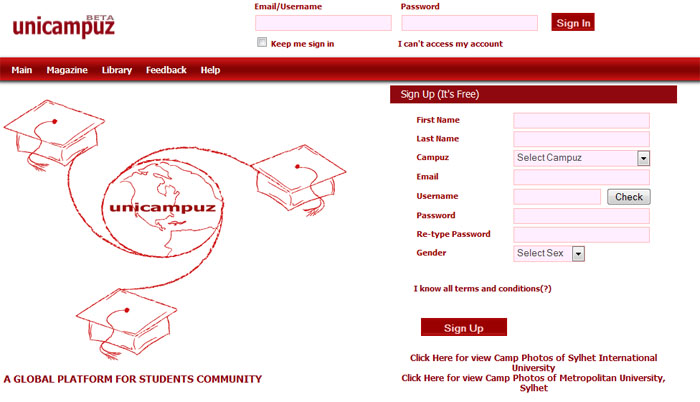 On 9th January, 2011 the founder of Unicampuz  planned to doing something innovative and good for everyone. Then, they thought about a student platform, where students can share their knowledge. Mehedi Hasan Nahid and Suhel Ahmed Chowdhury are the founders of Unicampuz. They are studying a B.Sc in Computer Science and Engineering at the Bangladesh University of Business and Technology (BUBT). Then, Iftekhar Ahmed Eather who has recently completed his graduation from BUBT has joined with them to develop Unicampuz. They are friends and have always planned and developed Unicampuz together.
Unicampuz is still developing. Unicampuz will always provide all the possible facilities to students and teachers so that they can share knowledge with one another. This will always be a free service for students and teachers. They have done several campaigns promoting Unicampuz to students and teachers already. Shortly in future, they will continue to do promotional campaigns to other Universities. Unicampuz has several features:
Personal profile
Question and Answer (Idea sharing)
Personal eBook library
eBook-self
Diary writing
Messaging
Un-plugged
Applications
Global library
Campuz Radio
Campuz Magazine
Question and answer:
The question and answer feature is really very helpful to the students and teachers. If any students/teacher has any problems about any subject and wants to ask any type of question, they can easily do that through this feature and other students will give the answer of that question. Those who post the questions can then choose the right answer and rate it as the best answer. Every user will be benefit by this as there will be many things to learn from the answers every day.
Messaging:
Users can send messages to other users to share personal or educational information.
Personal eBook library and Bookshelf:
Every student will get a personal eBook library. They can store their notes, suggestions, lecture sheets or any valuable documents as private or public information in their library. Other students are able to access any others' profile library providing they are posted for public use. They can even read the document from the Unicampuz site. Anyone can save others uploaded documents to his/her bookshelf very easily.
Unplugged
Successful or unsuccessful projects, inventions, ideas or concepts can be uploaded in Unplugged. Others can download it and then implement it however they choose.
Applications:
Unicampuz will provide applications which are valuable for students. We're developing "Mess Management Software". Who are living in a mess, they can use this app for free to maintain their mess. Shortly it will be on live. Another is the dictionary. We will provide more applications which are helpful for students.
Global library:
The Global library is full of eBook libraries. Students can search any book by different categories and then are able to read these books.
Campuz Radio:
The Campuz radio is one entertainment tool. Users can listen to the radio (free) while browsing.
Team Unicampuz

Congratulation to the team of Unicampuz. We are proud to feature you in our inspiration section for the people to be inspired by you and your dream!