Tired of Spam? Wanna get rid of it? I bet you are having a solution for it!
"Oh man! I'm suppose to  reply to the email my friend sent to me but where is it?  Ohhh!! I have lot's of email that I don't like or want. I also don't know or remember whether I subscribed to a particular newsletter/s or not! I just don't want any notification emails from anywhere.. Oh God!! Just make my inbox clean" – My dear friends, if this is your case and you want it sorted then you have come to the right place!! This is my new article in 2012 ( actually first TechHub article). I want to help you, therefore this article will focus on how you can get rid of spam by using very simple web based services.
You will have a bunch of websites which are going to offer to clean your inbox from spam and will unsubscribe you from any subscription that you don't like. Most of them, however, are not going to let you have the freedom to choose what you want to keep and what to remove. Today I am going to draw your attention to some very special websites which will offer this service to you (Please note that Teronga is no in way associated with the websites I'm recommending).  I will introduce 2 services which I think are great.
unroll.me
unsubscribe.com
I unsubscribe from junk email from retailers like Amazon.com, BestBuy.com and Play.com and product or service newsletters from companies like Facebook and Linkedin because each time they come into my inbox I lose time reading them or deleting them! So why not simply take a few minutes to eliminate these time wasting emails completely?
Now, Why do you need help unsubscribing from emails?
Oh yes, you can do it by yourself but then why you need help? The reason is that, some newsletters and bulk email providers allow a one click unsubscribe, but many of the companies sending out junk email make it tricky to unsubscribe and require you to log in to your account to unsubscribe which can be a real pain, particularly if you've forgotten the password! The two solutions mentioned below will help you bulk subscribe to all the newsletters in your inbox and also unsubscribe to the ones which are particularly tricky to unsubscribe from!
Two solutions to help you unsubscribe from spam and make your email from a junk yard to a beautiful garden
Unroll.me allows you to unsubscribe from emails in bulk. All you need to do is allow Unroll.me to scan your email account and then it will show you a list of senders that you can unsubscribe to. So in less than 5 minutes you can bulk unsubscribe from all the emails that you've got in your inbox! Ideal!
The screenshot below shows what the unroll.me interface looks like once you've allowed it to scan your inbox and asked them to unsubscribe you: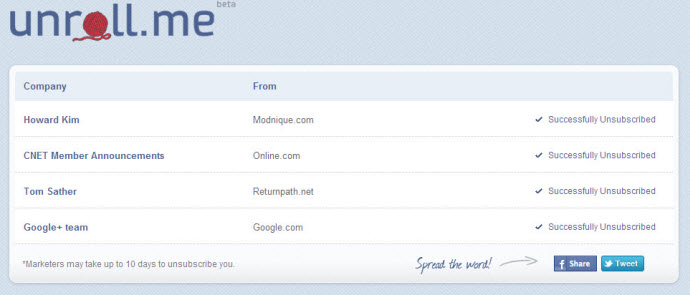 An official video describing the service:
[youtube]http://www.youtube.com/watch?v=kpEHYQdlZwY[/youtube]
Please not that unroll.me still in BETA version. So, registration process might be little bit slow , but after registration you will realize  it is worth it to wait for service like this:)
2. Unsubscribe.com – Unsubscribe from senders that don't allow you to
Unsubscribe.com gives you the power of a one click unsubscribe to any email you receive. You'll need to sign-up and then install a browser plug-in or email client plug-in to get the unsubscribe button, but once you've done that it works very well. I have downloaded the plugin for Gmail using Chrome and it works seamlessly. The service is especially useful for emails which don't provide you with the ability to unsubscribe as Unsubscribe.com will unsubscribe for you! And if the unsubscribe doesn't work, you can file a complaint against the sender.
The screenshot below shows uses of this service over the past few days: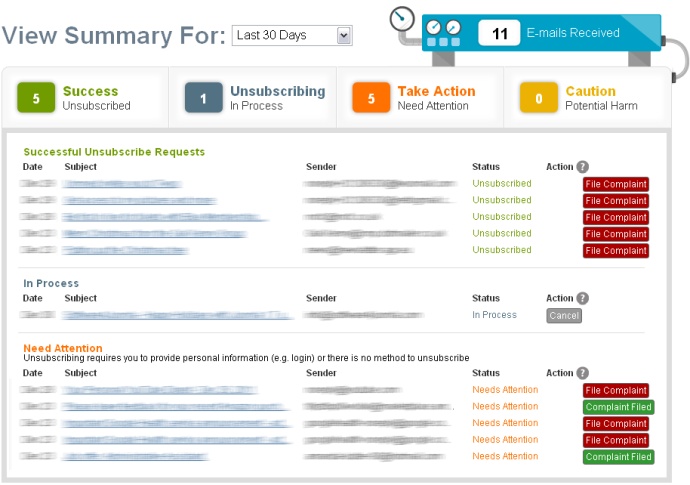 So now you can see how I have used this service to take control over my inbox from Spam.
Here is the official explanation video of how it work:
[youtube]http://www.youtube.com/watch?v=Ry8XhtQshFg[/youtube]
So what are you waiting for? Eliminate the junk email you're getting in your inbox today by using Unroll.me and Unsubscribe.com!
I hope this post has been helpful. Please post in the comments if you have any other tips for getting rid of junk email! Also let us know what you want us to write for you.