Hollywood Secrets on Wearing Red Lipstick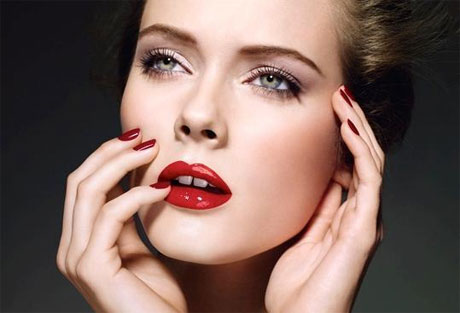 The best international make-up artists from all the top make-up brands all agree on one thing. The bold and vibrant, classic reds will always be in vogue and fashion no matter the season or year. The red color can be glamorously bold or subtly soft. There's no particular brand of lipstick that beats the other. As far as we're concerned, there's an excellent red lipstick product that will meet every budget from the Dior range to the $2 shop range. In fact, you'll be easily overwhelmed by the huge number of brands and ranges of red lipsticks. Take your time and experiment, but most importantly, have fun doing it.
For Spring, the vibrant red is very fashionable. Throughout this article, we'll show how to apply the classic red lipstick, then show you how, with the right wardrobe styling, you can make red lips work at the office, with casual wear on the weekend and, of course, with a sexy & glamorous look for a date or cocktail night.
When you're using red lippie for something as eye catching as a bold red you want to tone down everything else and let the color be the focal point.
Firstly, here's how to apply classic red lips.
Things you need before you start:
Lip balm
Red lip liner
Red lipstick
Red or clear lip gloss
Foundation
Make-up remover
Step 1: Select the right red lipstick shade for your skin tone.
Most people are able to wearing red lipstick. However, it is important to try different shades of red to find the one that suits you best. Ask a makeup retail assistant to help you make a suitable choice; be sure to test under good lighting.
Orange-red or reds with more yellow in them are kinder to olive or easily tanned skins (warm complexions).
Pale skin tones (cooler complexions) are better with blue toned reds.
A berry-tone fuchsia is a good daytime red.
Try red in a see-through sheer texture if you're not sure.
Step 2: Clean and dry your lips in preparation. Slightly moisturize your lips by adding a little lip balm. Before proceeding, wait for it to be absorbed.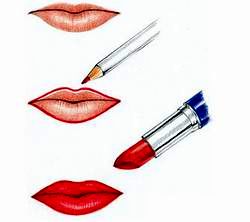 Step 3: Add lip liner

The lip liner needs to be similar to the red shade of lipstick you're going to use (or use a nude color). Carefully line your lips, avoiding trembling. If you made a mistake, don't swipe it off with your finger––use makeup remover on a cotton bud for best results.
Slightly line outside your lips if you want your lips to look bigger.
Consider using a reverse liner; it's clear and it allows you to outline your lips to prevent lipstick from running and bleeding.
If you don't have a lip liner, pat concealer across your lips.
Step 4: Apply the lipstick.
To make your lips redder, and fuller, get a small brush and use your foundation to apply around your lips. Don't be scared to get close to your lips, the bigger the contrast between your lips and your skin the better. This will let your lips look better, and more professional. Don't forget the very inside of your lips, as you smile the color of your real lips might be a big contrast to the redness.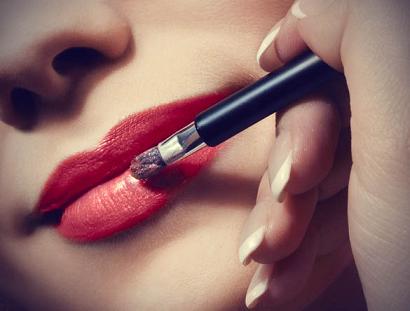 Step 5: Once in place, lightly dab the lipstick with a tissue. A coat of translucent powder can do wonders too. Then, last but not least, apply either a clear or a red lip gloss. You can never put too little lip gloss, but avoid the edges, because it might dribble over if it's too much.
Place your index finger in your mouth and move it around gently. It'll lift excess red lipstick likely to smear on your teeth.
Step 6: Consider the remaining makeup. The red lipstick pops should be your facial feature piece. The remaining makeup needs to be consistent with this and flawless skin is the look to aim for (or the illusion to create). Here are some suggestions to achieve this:
Wear the right foundation and eyeshadow – Again it would be a good idea to check with a retail assistant for advice.
 It is best to always apply using a lip brush, not the actual lipstick, which should only ever be applied direct to lips for brief touch-ups. The brush ensures that the lipstick is added precisely and that it will stay put.
Step 7: Makeup rest of face with foundation & with a dusting of powder
 Step 8: Check regularly for red smears on your teeth.
Have a compact mirror handy to check and swipe off the teeth smears should they happen. And they will.
How to wear your red lipstick during the day and night:
For the office
Keep your outfit fun, but understated. A color-block sheath dress under a structured blazer is a perfect sophisticated pairing. Skip the stilettos and instead showcase some loafer heels. With the rest of your makeup, think minimal. Light eyes and a coat or two of mascara. A simple half-up, half-down hairstyle is a perfect match.
For the weekend
Show off your figure in a pair of dark skinny jeans, a striped sweater, and some lace-up boots. In fact wear any types of casual clothing and then add some life to your look with a chunky necklace and amplify those lips with eyeliner and a sassy ponytail.
For a date or cocktail night
You can match your red lips with just about any cocktail dress but we love the way they look with a 1940s-inspired print dress and platform heels. Layer on the sparkle with delicate jewellery, glittery eye shadow, and a swipe of clear gloss on those lips.
Overall Tips:
As your lips get redder, your teeth probably might get yellower, so brush them before you apply your lipstick directly.
To get a deeper red, use two kinds of lipsticks, that way you will blend two choices if you are confused.
Sometimes, you can fill in your lips with your lip liner before you apply your lipstick, this tends to make it last a bit longer.
The pads of your fingertips are the closest to your lip color, making these a good part of the body to test the red color on first. However, this shows sheerness and texture, not whether or not the shade will flatter you.
Teeth look brighter with some shades of lipstick, namely watermelon colors through to the fruity, berry colors.
In Hollywood, Rita Hayworth wore the really brilliant red, while Elizabeth Taylor wore a candy-apple red.
You can use this method for other lipstick colors, such as pink, brown, maroon, etc.
Finally:
When you are done, smile and try to talk. Sometimes you get red stains on your teeth, and you won't notice until it is too late.
It doesn't look too good when your lip liner is brown or a color that doesn't really complement red, or bright red.
Never forget to apply lip liner. It helps prevent your lipstick and lip gloss from sliding all over your chin.
Avoid shades of red with too bright orange undertones; these will appear sallow and can bring out too much yellow in teeth.
Remember: Heavy use of make-up defines you as a type. Be sure you want to be defined as that type before you use it!
Red lipstick looks best with a flawless complexion and dramatic (but not overpowering) eye makeup- if you can't do this it might be best to get some lessons from a makeup professional or even self-teach with YouTube lessons!