How to: Setup a Home Office on a Limited Budget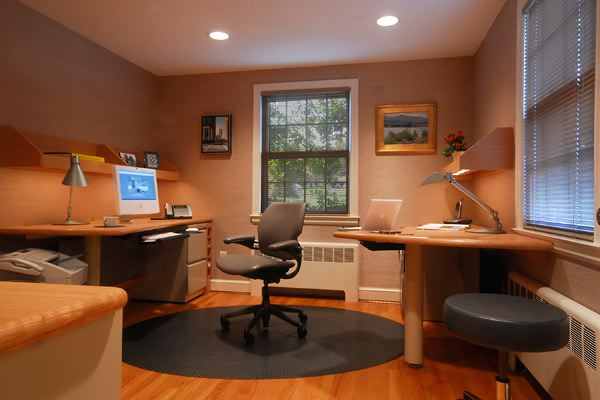 Whether you are a start-up programmer or designer or a full time mom with part time business vision , it's time to setup a home office, and you have a budget less than $500 set aside for the project. Now may be you are stuck on the question how are you going to do it with such an awesome limited budget? Trust me, Its not so difficult to do it with the money you have. The space is there, the colors are in your mind, and you know what furniture you need.  Just you need a planning with a great vision:
You need to know something before starting:
flexible planning is the key to design a home office in budget. Keeping your plans flexible prevents you from being feeling down  when you know it's impossible to  afford the brand new executive office suite or the leather chair that you saw someone using in their business when you are just kicking off your home business.
Remember choosing budget equipment is not the end of decorating your home office like a heaven that you dream to have. Just remember,  you may have to start small and build up later.  The prospect of having a home office is exciting if you're just beginning to work from home, but you may need to start modestly and purchase additional items necessarily later.
As a home office you will be spending a lot of time in the office. So, make it nice, neat and clean. Be sure to choose a color which is eye soothing for you. Don't forget to make  sure that the chair isn't killing your back. You don't want to have permanent back damage from a chair, Do you?
Don't try to make it messy with items then you don't want. That is, keep it an office. Don't design it like a play room. Stick to the office, which going to will help your budget.
Now, come to the point of designing a home office in a budget. There are plenty of provision to improve a room's appearance and not have to spend much money at all.
Paint the Room: Choose a productivity-friendly color–$50
Paint gives a room a whole new look in record time and with very little money. Choose a color that is calming, not distracting, and somewhat professional. The colors you see in your workspace can make all the difference in your productivity. Choosing a bright color like yellow or bright green can ease the monotony of repetitive tasks. Pale blue or green can add a calming effect to the home office. And plain white tells everyone you mean to do serious work in your workspace.
Light the room–$50
Lighting is extremely important for an office room. You will never want to work in a dim office, even if your job consists of staring at a computer screen all day. At least, you shouldn't if you don't mind to work in dark. Go ahead and invest in a floor lamp to provide ambient lighting. You can buy these at a store like Wal-Mart for $20. Also, you want to invest in an adequate desk lamp to keep a source of light directly on your workspace.
Decorate the Room–$50
You might be thinking saving all the money not going to let you decorate your office room properly.  Not so. Here is where you can get creative. Visit yard sales/ bargain market. People are frequently rearranging their home's design which leading them to sell decorating items at very low prices. Things to look for  at the beginning of home office decorations are,  framed wall pictures to add some interest to the walls, potted or artificial plants to add some green to the room, and minimal decorations to grace a bookshelf or desk. Presto. With $50 or less, you can arrange an impressive decorated look to your home office.
Furnish the Room—$300
Most of the  budget amount  is going to be spent on furniture. Here is where the power of  proper searching can be unleashed. Before rushing off to high priced furniture mall , just go to websites like Craigslist.org–an online yard sale where you can find nearly any time of home furnishing you need. Here you can find a nice desk for under $100, a filing cabinet for $10, or an easel for $7. Realize that you are getting used furniture, but realize as well that you are saving a ton of money. Even you can walk around to yard sale markets in your country to find out what you need.
Enjoy your home office. You just roughly decorated a home office within $500.