Most Fashionable Sunglasses for 2013
There's no doubt that sunglasses are a big part of your overall fashionable wardrobe and ensemble. One originally bought sunglasses as an item for protection from the sun. Nowadays, it's considered a compulsory fashionable accessory to have that gives you your own distinct style statement in both summer and winter.
Walk into any eye wear or sunglass shop and you'll be totally amazed at the wide range and variety of fashionable sunglasses that are available.
A pair of sunglasses can transform your look from plain and boring to chic and urbane and very stylish.
As with apparel fashion trends, trends & up to date designs do exist for sunglasses. Let us see what we should be wearing in 2013!
Be Bold and Dramatic!
Thanks to this year's Milan Fashion Week and top designer Roberto Cavalli's Wild Diva Collection, dramatic and bold sunglasses is in as a trend in 2013.
The frames are square, with innovative shapes at the top slightly reminiscent of the cat eye shapes that have been quite fashionable throughout 2012. The colours will mostly be dark.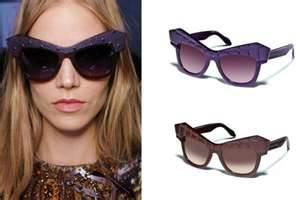 Stand out wearing Colored Lenses!
Sunglasses with coloured lenses is a big trend for 2013!  The overall style for this trend is minimalist and sleek with light weight chromed steel in the temples and bridges. The colours are subdued and range from subtle greens and blues to the very dull grays. Perfect for the stylish and sophisticated woman  and that is you!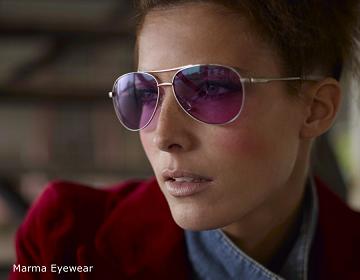 Be Funky and Look Colourful!
Thanks to the Dita Eyewear Collection of designer Thom Browne,another sunglass trend in 2013 focuses on colourful frames with mesh side panels (again coloured and with a dash of detailing on the legs. Considered a new and interesting design, it's a certainly a funky and colourful way to enter the New Year 2013.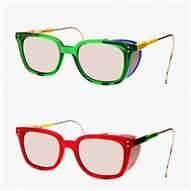 Geometric Frames Sunglasses Trends 2013
Geometric Frames Sunglasses is what 2013 is all about. Clear geometric shapes will rule, with the round shape being a bigger trend than the others.
As always, cat eye shapes will remain a popular trend, particularly for women. Another top sunglasses trend in 2013 carried over from now will be the oversized sunglasses.
These are sunglasses trends that have been showcased in fashion shows across the world and should give you an idea about what will be hot in the world of sunglasses come 2013.