Nail Polish & Art Trends 2013
When it comes to the latest trends in Nail Polish and Nail Art in 2013, it's all about contrast. Contrast is in. The latest looks range from light, bright and innocent to dark and bold chic color styles . Tribal designs, vivid colors, dark and gothic inspired looks, strong metallic and sparkling vanishes welcome us in 2013.
On the New York fashion catwalks, nails were decorated with pretty swan white polishes, barely-there French manicures mixed with black vamp shades, not to mention the dripping blood effect, glamorous metallic varnishes and colorful two-tone manicures added with a sparkling and shiny nail paints!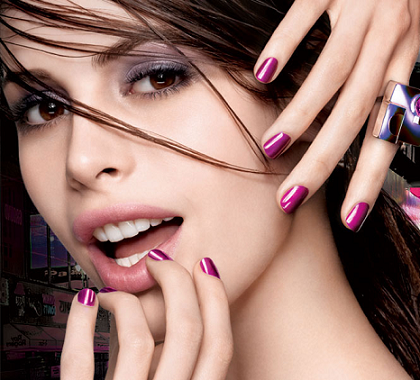 1. Summer/Spring Inspired Theme

The summer and spring months remind us of new life and nature, so let your nail polish and nail art follow these themes. Go for perky, vibrant and nature themed nail art styles. Bring your nails to life with sun, clouds, flowers in bloom, green leaves and colorful butterlies painted on your nails. Have fun with it.
The sparkling nail polish and art comes influenced by the New York Fashion Week show by Joy Cioci. Sparkling and shiny nail polish is in this year.  Most popular sparkling colours are red, gold and silver. Give off the effect to others that your nails are wearing fabulous sparkly jewellery too. You'll have nails that are dressed to impress!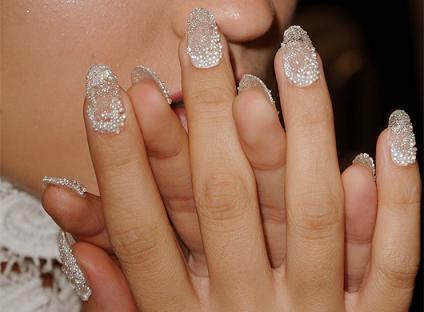 3. Tribal Designs
Tribal designs are big in fashion and have been seen on clothes, jewellery and can now be reflected on our nails. Tribal nail polish and art designs consist of vivid and bright colors. Designs are geometric elements like circles, lines and triangles. The best part about tribal nail polish and art is that you can design your own pattern, but there is no denying that these combinations of patterns and colors make it a tough job to create them.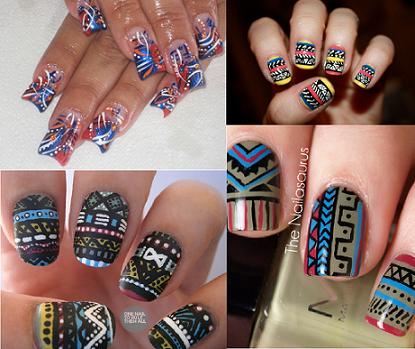 4. Vivid Colours
Unusual, bright and vivid colors are the continuing trend in 2013. It's all about trying colors you've never used before on your nails. Keep in style and paint your nails to draw attention!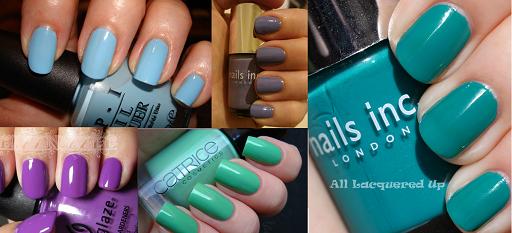 5. Metallic Nail Paint
Metallic nail paints are a big favourite on the fashion runways. In other words, they are very much in vogue for 2013. Gold, silver and cooper are the big favorites! Don't shy away. Make a big fashion statement this year and show your worth!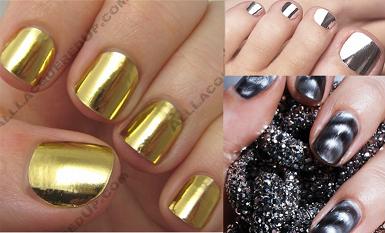 6. Pale Nail Colors

Wearing neutral, cream colored nails is staying in tune with the minimalist trend that's been gaining momentum since last year. Soft milky shades, pure whites & un-done French manicures's  are all colors that have been spotted on catwalk especially during the Spring season. Toning down your nails is the new way to play it cool.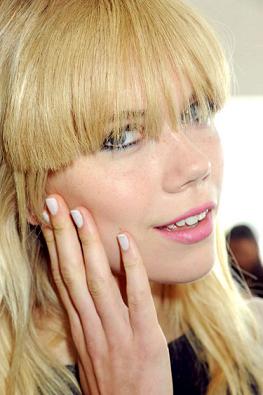 7. Two Tone Manicure

For those who want to be bold without being too over the top can go for the dual polish effect. All you have to do is pick contrasting shades that flatter your skintone and use a small brush to paint on a graphic style—try a half moon, a vertical split, a V-shape or a diagonal strip.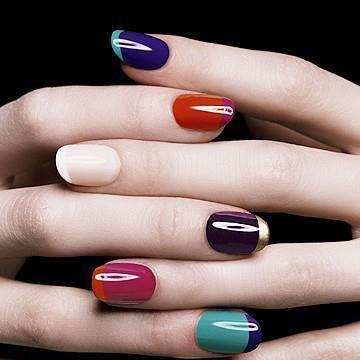 8. Edgy Elements

Playing around with dark and dangerous themes is a big trend this year. Goth-inspired looks are also in. So dark colors are definitely in. Black is without a popular color mixed in with a dab of other contrasting colors to give off a dark Angel look. Why not? Go for the dare.