Tips For Long Lasting Color Lipstick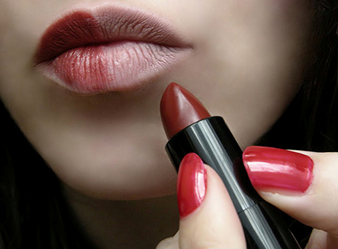 The lipstick is a primary product for women when they do their make up. Without the lipstick,  the face will look pale and dull. Even the best makeup will look imperfect without the outward appearance of lipstick.
The main problem of using lipstick, however, is that the color easily fades and does not last long on the lips. Even after having eating meal or drinking, the lipstick color tends to fade or disappear. There are a wide range lipsticks on the market that claim to be long lasting. However,  why spend ridiculous amounts of money to buy such expensive lipsticks? Why  not try our tips For Long lasting color lipstick?
Here are some tips & tricks to make your lipstick color stay more easily and last longer on the lips! It means you  don't have to  apply lipstick over and over again especially if you're a busy woman on the go!.
Keep your lips moistened
Keeping the lips moisturised is very important. Lips that are dry and cracked will look more visible when you dab your lips with lipstick. Besides that, lipstick color tends to fade on dry and cracked lips. To maintain the lips moisture, apply petroleum jelly to your lips before applying your lipstick. You can also apply a lip balm after applying lipstick so that your lips look moisturises.
Choose bright or matte color lipstick.
Choose bright or dark colored lipstick because these lipstick colors tend to be more durable compared to lipsticks with the natural or lighter colors.
Frame lips with the lip liner
Before applying lipstick, using a lip liner to frame your lips beautifully. Using a lip liner also helps your lipstick color last longer.
Dab lips with lipstick straight from the lipstick tube
When wearing lipstick, dab the lipstick straight from the lipstick tube. Do not use a lipstick brush.  Dabbing the lipstick straight from the tube will make the lipstick color stronger and the lipstick color more durable and stay on your lips.
Apply loose powder to the lips
Apply loose powder to the lips first then dab some lipstick on. Then while stretching your lips by smiling, apply another tiny amount of loose powder over your lips. As the last touch, dub your lips again with the same lipstick color after applying the loose powder. Doing this will make the lipstick color last longer on your lips.