Cox's Bazar-world's longest natural sandy sea beach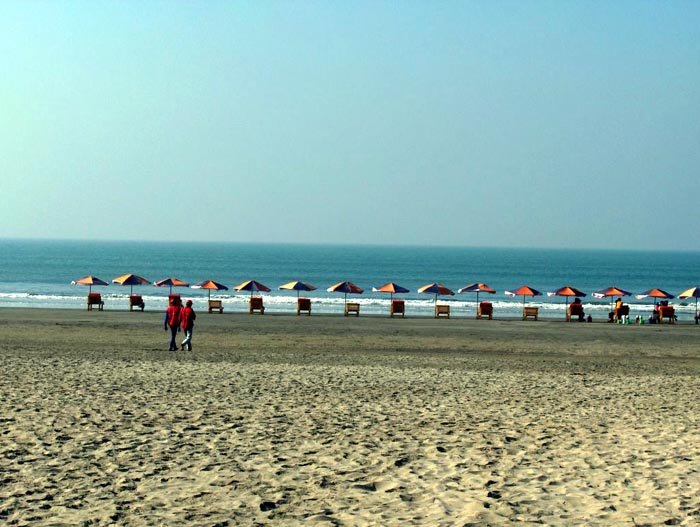 Cox's Bazar is a town, a fishing port and district headquarters in Bangladesh. It is known for its wide sandy beach which, believed to be the world's longest natural sandy sea beach. It is an unbroken 125 km sandy sea beach with a gentle slope. It is located 150 km south of Chittagong.
Population
The estimated population for the city of Cox's Bazar is a little over 50,000 residents, and the population for the entire metro district of Cox's Bazar is a approximately 120,000 residents. The municipality covers 27 mahallas and 9 wards.
Time Zone
Bangladesh Standard Time (BST) or Greenwich Mean Time plus 6 hours (GMT + 6 hours). Bangladesh observes Daylight Saving Time, so during summer months the time is GMT + 7 hours.
Attractive places
Inani beach and Himchori
There are many attractions for the tourists around Cox's Bazaar. From Cox's Bazaar Sea shore, you can go to these places by jeep and it is really exotic to drive on the seashore. Himchori is famous for waterfall, though in the winter season it dwindles but during the rainy season it's really a fabulous and full waterfall can be enjoyed. It's also famous Broken Hills. Inani beach is famous for the rock and coral boulders; you will find big coral boulders in this beach. You can plan a trip to Inani beach via Himchory for a half day or may be a full day sightseeing. Please take packet lunch with you.
Nijum dip:
This Island could be the next prime tourist spot after St. Martins Island. It's
nijhum_deep
a natural beauty of mangrove forests where you will find Dears of specific species and Monkeys. A huge numbers of migrated birds come in this Island in winter season, enhancing the beauty of this Island. The communication is not excellent but if some one wishes to bear the trouble to go to this Island, he will be enchanted to see the beauty of this Island. You can go to this Island either from Dhaka or from Chittagong.
From Chittagong first you will have to go Hatia Island by Motor boat or Ship and from there you can go to Nijhum Island by local motor boat. From Dhaka you can go Tomzuddion by launch from Sadarghat launch terminal. From there you can go to Nijhum Island by local motorboat.
Accommodation is very limited for the tourists in this Island. You can take foods from local restaurants but be careful about the quality of foods. If you can take prior permission for forest department then you can stay in forest rest house in Nijhum Island. Another possibility for accommodation is in District Parishod Guest house. If you take the permission from Thana administration (TNO) of Hatia you can also stay in the District Parishod Guest house. For the adventure seekers Nijhum Island could be one of the greatest experience of journey and it will be a memorable enjoyment to stay and pass some days in this isolated Island.
Sonadia Island:
Drying Sea fishes
Sonadia Island is a small island of about 9 km offshore from Cox's Bazaar in southeastern Bangladesh and about nine square kilometer in area. The western side of the island is sandy and different kinds of shells are found on the beach. Off the northern part of the island, there are beds of windowpane oysters. During winter, fisherman set up temporary camps on the island and Dries Sea fishes, which they catch from Sea.
Maheskhali:
Moheshkhali Island is another attraction for the tourists who go to Cox's
moheskhali temples
Bazaar. An island off the coast of Cox's Bazar. It has an area of 268 square kilometers. Through the centre of the island and along the eastern coast line rises a range of low hills, 300 feet high; but the coast to the west and north is a lowlying treat, fringed by mangrove jungle. In the hills on the coast is built the shrine of Adinath, dedicated to siva. By its side on the same hill is Buddhist Pagoda.
You can go to this Island by local motorboat called trawler or by speedboat. By trawler, it takes an hour and a half and by speedboat, it takes only half an hour to reach this Island. You will find mangrove forests, hilly areas, salt field etc. This island is famous for Buddhist Temple and Pagoda; you can enjoy a full day sight seeing if you intend to visit Sonadia and some other Islands nearby. In the morning you can start for Moheskhali, spend time to watch Moheskhali's tourist places, take lunch there and on return you can visit Sonadia and other nearby Islands where you can sea the live fishing & fishermen lifestyle; By the afternoon you can come back to Cox's Bazaar.
Ramu:
monks
This is a typical Buddhist village, about 16 km. from Cox's Bazar, on the main road to Chittagong. There are monasteries, khyangs and pagodas containing images of Buddha in gold, bronze and other metals inilaid with precious stones.
One of the most interesting of these temples is on the bank of the Baghkhali river. It houses not only interesting relics and Burmes handicrafts but also a large bronze statue of Buddha measuring thirteen feet high and rests on a six feet high pedestal. The wood carving of this khyang is very delicate and refined.
The village has a charm of its own. Weavers ply there trade in open workshops and craftsmen make handmade cigars in their pagoda like houses.
Teknaf:
Southernmost tip of Bangladesh, Teknaf situated on the Naaf river and just at the end of the hilly regions of the district. Mayanmar is on the opposite bank of Naaf river. Wild animals and birds are available but the most interesting thing is a journey on the river. Wide sandy beach in the backdrop of high hills with green forests is an enchanting scene never to be forgotten.
Accommodations- Hotels and Resorts:
Seagull Hotels Limited 5 StarHotel Motel Zone
Cox's Bazar Beach , Bangladesh, Tel : 0341-62480-91, Fax : 88-0341-64436
E-mail: [email protected] , [email protected],

[email protected]

.Dhaka Office
White House Hotel, 155 Shantinagar, Dhaka -1217, Bangladesh.
Tel: 88-02-8322973-6, Fax: 88-02-8317726, E-mail:

[email protected]

Website: http://www.seagullhotelbd
.com/
Hotel Sea Palace Limited 5 StarHotel:
Kalatoli Road, Cox's Bazar, Tel: 88-0341-63692, 63792, 63794, 63826, 63853 Cell: 88-01714652227, 01714652228,
Fax: 88-0341-63769, Email: [email protected] Sales Office:
Mayer Shapna, 348 M.M. Ali Road, Room: 304 (2nd floor), Dhampara, Chittagong. Cell: 88-01554355116, 01716662274 E-mail: [email protected] Sales office:
2 B.B. Avenue, Gulistan Complex (6th floor), Gulistan, Dhaka- 1000 Tel: 88-02-9552453, PABX: 9553944, 9567167
Cell: 88-01819808842, 01711179678, 01913380847 Fax:88-02-9571931, E-mail:

[email protected]

Website: www.hotelseapalaceltd.com
Hotel Sayeman2 StarMookthijoddha Sarani, Cox's Bazar.
Tel: 88-0341-63235 PABX 63900-4
Cell: 0171-022088
Fax: 88-0341-64231Dhaka Office:
Tel: 88-02-8614565
Fax: 88-02-8612455
Email:

[email protected]

Hotel Coral Reef3 StarKalatali Road, Cox's Bazar.
Tel: 88-0341-64744-5
Cell: 0171-173734Dhaka Office
ABAKASH PARJATAN LTD.
16, New Eskaton Road,Dhaka.
Tel: 88-02-406300-1, 418081
Fax: 88-02-9351100-1
Email:
Nitol Bay Resort3 StarKalatali Road, Cox's Bazar.
Tel: 88-0341-64278, 63677
Cell: 011-741090, 0176-285939
Fax: 88-0341-64278
Email:

[email protected]

Dhaka Office
Nitol Center (8th Floor),
71, Mohakhali C/A, Dhaka.
Tel: 88-02-9887074-6, 9898770
Cell: 0171-281047
Fax: 88-02-9887072, 9883121
Email:

[email protected]

Website: www.nitolniloy.com
Uni Resort3 StarKalatali Office
Kalatali Road, Cox's Bazar.
Tel: 88-0341-63181, 63191
Fax: 88-0341-62824Mobile-01713160176, 01713-160162, 01713-160167E-mail-

[email protected]

& ,

[email protected]

Corporate Office
80, Nasirabad I/A, Chittagong.
Tel: 88-031-682724, 683914
Fax: 88-031-681392
Email:

[email protected]

Dhaka Office
94, Mohakhali C/A, Dhaka.
Tel: 88-02-8853337, 8815097
Email:

[email protected]

Hotel Silver Shine Pvt. Ltd.3 Star26, Motel Road, Cox's Bazar.
Tel: 88-0341-64893, 64894, 64610
Fax: 88-0341-64693
Email:

[email protected]

Motel Upal2 StarShikat Road, Cox's Bazar.
Tel: 88-0341-64258
Cell: 0189-383571Dhaka Office
HOTEL ASHRFEE
12, Outar Circular Road,
Rajarbag, Dhaka.
Tel: 88-02-9353021-5
Cell: 0189-383572
Fax: 88-02-8316309
Email:

[email protected]

Hotel S.K. International1 StarJhawtala, Main Road, Cox's Bazar.
Tel: 88-0341-63830, 62723
Cell: 0171-457094
Email:

[email protected]

Hotel Holiday1 StarMotel Road, Cox's Bazar.
Tel: 88-0341-63875, 62595