Komodo Island: New 7 Wonders Of Nature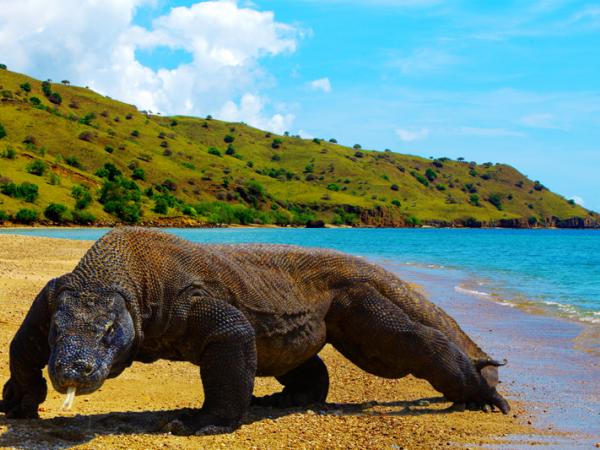 Komodo Island is part of Indonesia's 17,508 archipelago that make up the Republic of Indonesia. The island is named after the Komodo Dragon, the largest (or giant) lizard on earth. The Komodo Dragon grows to an average length of 2 to 3 metres (6.6 to 9.8 ft) and weighing around 70 kilograms (150 lb). This island forms part of the Komodo National Park that is managed by the central governor. The island is a popular destination for diving and is part of the East nusa Tenggara province.
In the area of the Komodo National Park there are four large islands that serve  as a habitat for the Komodo Dragion: the Rinca island has 1.318 population of Komodo dragon, Komodo Island with the 1.226 population of Komodo Dragon, Gili Motang Island with 68 Komodo Dragons, and Nusa Kode Island with 86 Komodo dragons.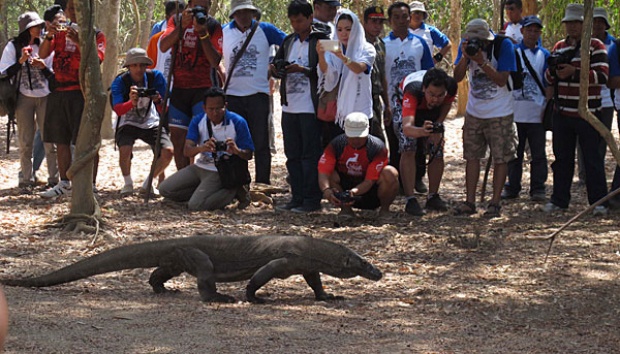 The Komodo island became famous because it was first discovered by a Dutchman 'Steyn van Hens Broek' in 1910, whom later named the island "Komodo". In May 2012, Komodo Island officially became one of the New Seven Wonders of Nature.
Tourists that visit Komodo Island also tend to venture towards Rinca Island. On both islands, tourists are invited to explore the tracks that measure e 2 km-8 km, to visit the original habitat of the Komodo dragon. The length and duration of the trip tracks depends on the choice of tourist.
Tracks vary in length from short to long and depends on the fitness level of the participant. Visitors should not walk around alone in the native habitat of the Komodo Dragon, but must be accompanied by a ranger (tour guides who are trained to handle Komodo dragons).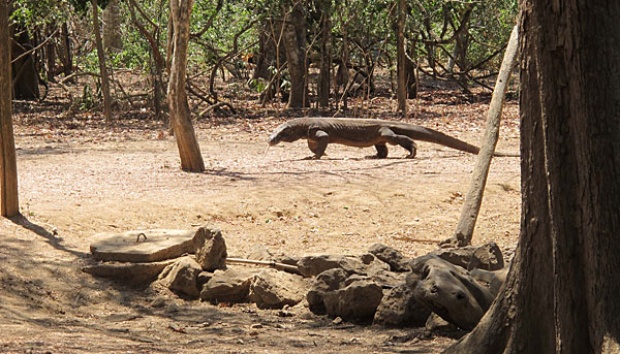 Komodo Dragon's Sensitive Smell of Blood
Komodo dragons are known as vicious animals. At first glance they appear like idle animals. But like crocodiles, Komodo dragons appear silent but can run at a great speed to chase after prey.
Komodo dragons can run at speeds of 16 km-18 km per hour when chasing prey. They can also swim as far as 500 meters. Tails and fangs are the Komodo dragon's powerful weapon.
Komodo dragons are classified as vicious animals, due their sensitive smell of blood. Komodo dragon can even smell blood within 5 km, therefore women who are menstruating or anyone who's injured are not allowed to take part in the tracking expeditions on Komodo Island. Komodo dragons  are also sensitive to sudden movement and noise. If the Komodo dragon feels any disturbance, they can become  anxious and even aggressive. If you encounter a Komodo dragon attack, the ranger will hit the dragon's neck with a forked wooden stick he carries.
Visitors in general should have no worries visiting the island of Komodo, as long as they follow the rules that have been set for their safety.
The Komodo National Park entrance fee is quite affordable costing only 2.500 IDR for local visitors and 20,000 IDR ( $2 ) for foreign tourists.
For those of you who wouldn't be satisfied with just a walk in this place, you can also dive. The sea here is famous for its biodiversity. This is because the warm north waters and the cold southern waters meet together at Komodo Island. Various species of coral reefs flourish in these surrounding waters. You will not regret diving in the seas surronding the Komodo Island National Park.
How to Get There:
Transport can be used to travel to Komodo Island by sea, land and air. You can use the plane from Ngurah Rai Airport, Denpasar, Bali to Labuan Bajo that takes one and a half hour. After arriving in Labuan Bajo, you still have to use a ferry to cross to the island of Komodo. In addition to seeing Komodo life in their natural habitat, the visitors are also treated to beautiful views of the beach and the sea.