The Longest and The Fastest Flying Fox In The World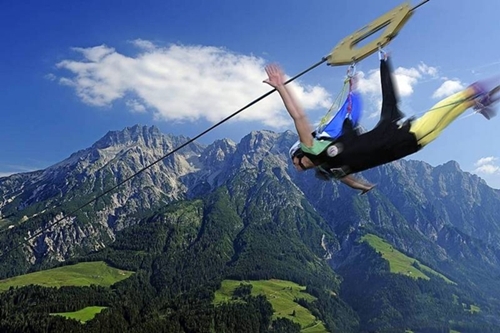 Have you ever experienced riding a flying fox? How about experiencing a thrill of a lifetime? The Flying Fox XXL Leogang near Salzburg, Austria, is the longest and the fastest Flying Fox in the world!
How would you feel riding a flying fox at a speed of 140 km / hour, over a distance of 1.6 miles at a height of 140 meters above sea level? During the ride, you would be passing spectacular mountainous landscape. Traveler's have described the experience as "breathtaking", "amazing", and "unbeatable".
This Flying fox is the longest and the fastest in the world. You will be taken through the wide valley of the Alps mountain with the beauty scenery. Even whilst the flying fox is moving very fast, the ice peaks are clearly visible.
The Flying Fox XXL is a very famous tourist destination in Austria. For those concerned about safety, this flying fox is proved to be most secure. There are, however, some requirements before you are able to ride the Flying Fox. Minimal Age is 10 years old. Those aged 10-18 years old must have a permit from their parents or the authorities.
Body weight should be between 35-120 kg. In addition, you should also physically and mentally healthy. Pregnant women are not allowed to ride the Flying Fox. The Flying Fox is operated depending on weather conditions. Operations are suspended during a storm, lightning, or high winds.
Interested riders pay around about 79 Euros to feel this experience. Apart from wearing comfortable clothes, you should also prepare yourself mentally to ride this flying fox. Helmets and protector hands and feet are provided by the operators. Dare to try?