Visit the 'Upside Down Trees" at Glacier Gardens in Alaska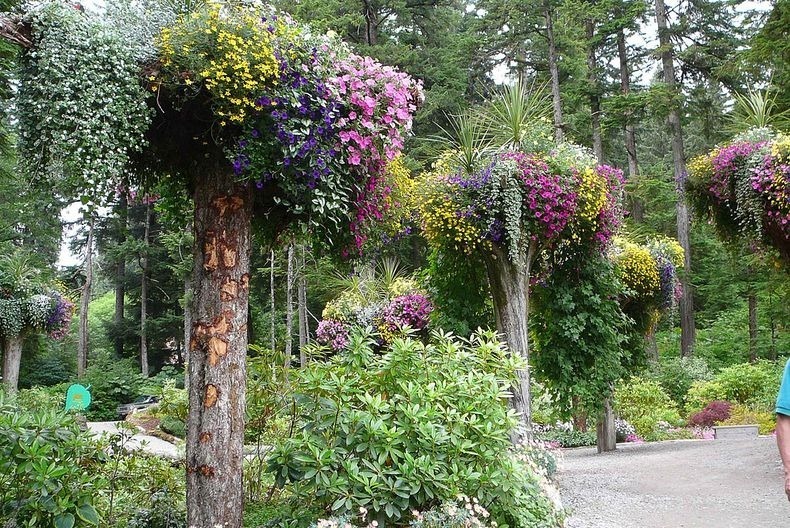 America voted a place as the most interesting landmark in the United States. Guess where that is?
Visit the 50-acre Glacier Gardens located in Southeast Alaska and you'll see an amazing and strange sight. The glacier gardens  is a very unique rainforest botanical garden paradise which features the one of a kind 'Upside Down Flower Towers'. The beautiful and well manicured botanical gardens is set within the mighty Tongass National Forest.
In 1994, landscapers Steve and Cindy Bowhay, turned trees that fell into Alaska's Tongass National Rainforest into upside- down flower towers. The Bowhays plant the trunks in the ground upside down, then cover the roots with net, greenery, and flowers each year.
The upside-down trees known as "Flower Towers" are local Sitka spruce and Western hemlock, felled by a landslide in 1984 that uprooted most of the mountain's vegetation. Steve collected the felled trees, flipped them over, replanted, and turned them into natural flower pots. The tops are buried several feet in the ground, while the roots become a nest for arrangements of brightly colored begonias, fuchsias, and petunias.
Today, the park is scattered with just about a hundred upside down trees, all of which are lined with netting, moss, and topped with nearly 75-100 annual flower plants.
Guided tours aboard easily accessible shuttles escort you through beautifully designed landscapes and into the heart of the Alaskan temperate rainforest where you will learn all about this fascinating environment. Breathtaking scenic views of Juneau and the Mendenhall Valley wait 580ft atop Thunder Mountain. .
The Glacier Gardens is very popular with tourists and pre-wedding photos. So make it a point to stop in if you're ever that way.