World's Largest Indoor Tropical Rainforest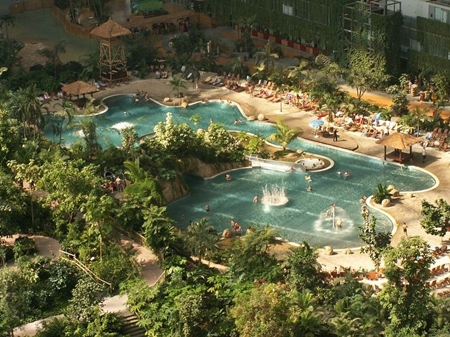 You'd be considered a lucky person who lived in a tropical country where throughout the year you could feel the warmth of the sun. Accessing tropical forests rich in flora and fauna is a dream for people living in countries such as Germany. But not anymore. Germany have taken their dream and aspirations further by creating an indoor tropical rainforest.  Germany has built a dome that houses dozens of species of tropical plants and typical bushes from tropical countries around the World.
Tropical Island Resort is an artificial tropical resort that has been established in the largest dome in the world. Located in the municipality of Krausnick, in Brandenburg, Germany, it is situated about 60 km south of Berlin. With a length of 360 meters, 260 meters wide and 107 meters high, supported by 14,000 tons of steel, this dome is so wide and can accommodate about 8 football fields. With a volume of 5.5 million meters3, this dome is the largest dome in the world without any supporting pillars inside.
 Inside the giant dome is the World's largest indoor rainforest, with 30,000 species of trees, bushes, and various kinds of tropical plants.
Visitors in the tropical island resort can relax and take a walk on the path that has been provided along the artificial rainforest while enjoying views of the tropical forest. Moreover, visitors can swim or sit along the artificial beach inside this giant dome.
With temperatures around 26 degrees Celsius, this place is open throughout the year, so visitors can enjoy the atmosphere in the tropical forest all year round.
The tropical rainforest is also equipped with a swimming pool which can accommodate around 8000 visitors. There are also places to play mini golf, restaurants, bars, shopping, daycare, and even a camping ground.
The dome is also equipped with a natural UV light, shining on the plants and trees in the dome. And because of the humidity inside the dome, the condensation of water gathers in the dome and creates the rain that falls inside the dome so that the climate is suitable for a tropical rain forest plant.
Along the pool are buildings that look similar to world famous architecture such as Angkor Wat, Temple Gate Bali, Borneo longhouse, and Traditional Thai house. There are also many statues of Buddha found around the Tropical Island Resort.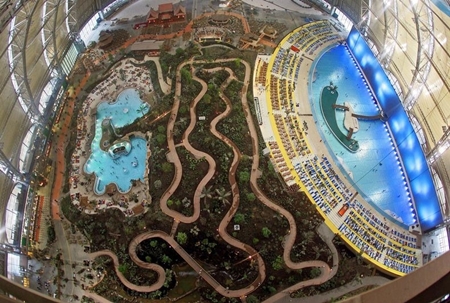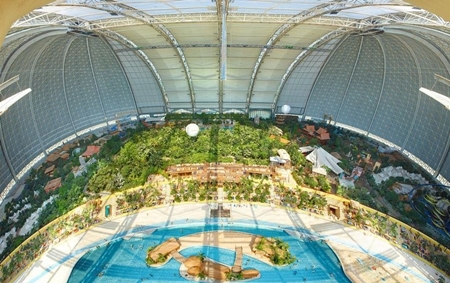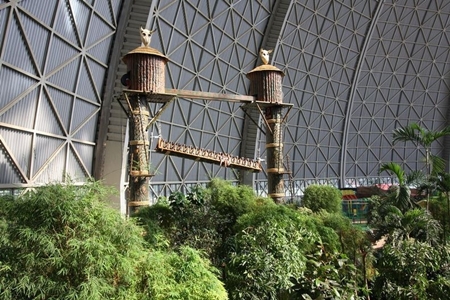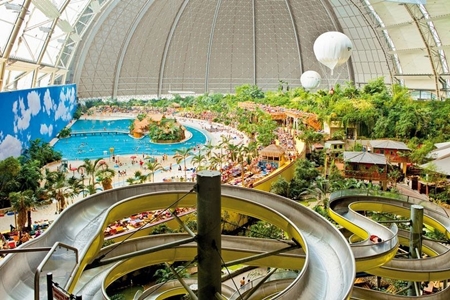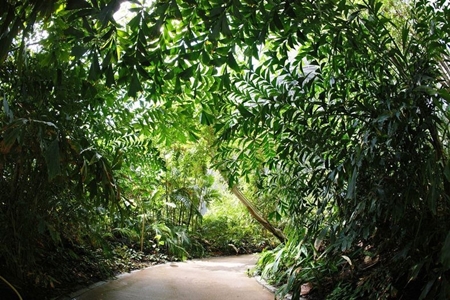 [ad-gallery orderby="menu_order" width="585″]