A Comparison Review on Apple iPhone 5 Vs Samsung Galaxy S4
At present, a huge competition is being observed in the world of smartphones, especially in between Samsung and Apple. They are also the ones who are making significant profits. The Apple iPhone 5 was definitely one of the most popular smartphone of 2012. And just recently Samsung's Galaxy S4 has been launched with some amazing features and capabilities. But how do these devices compare with each other? You will find out the answers to this question on our  iPhone 5 Vs Samsung Galaxy S4 comparison review.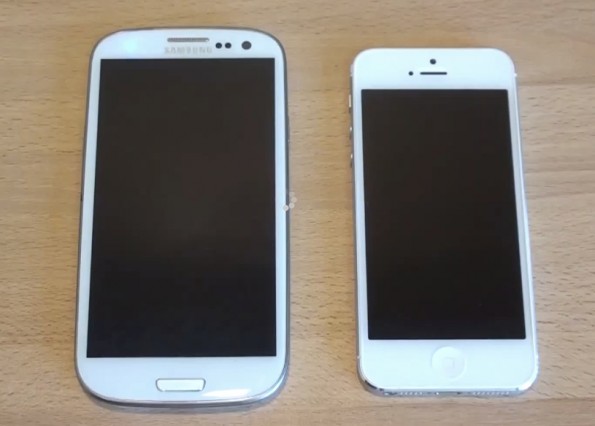 Dimensions and Weight
The new Galaxy S4 is bigger than iPhone 5 in each dimension. The Galaxy S4 measures 7.9mmx7.mmx137mm while the iPhone 5 is 7.6mmx59mmx124mm. The S4 has become very large, but a sweet comfortable spot is obtained by the iPhone with its size. However, prior to jumping to any decision, it is better to get your hands on both of these devices to determine which dimension you prefer.
Unsurprisingly, the iPhone 5 is a light device than the Galaxy S4. The iPhone weighs 112g while the Galaxy S4 is 130g.
Build Quality
Compared to the aluminum body of iPhone, the plastic composition of Galaxy S4 doesn't look premium. However, millions of customers have already fall in love with a phone that is both made of plastic and high-end. But if you prefer a premium build, then you can go for the iPhone 5.
Display
The Galaxy S4 outruns the iPhone 5 when it comes to the display. The larger 5-inch display of Galaxy S4 comes with the resolution of 1920×1080 and the pixel density of 441ppi, while the 4-inch screen of iPhone 5 features the screen resolution of 1136×640 and the pixel density of 326ppi.
Processor
Samsung's Galaxy S4 is available with two versions of processor; Exynos Octa Core 1.6GHz processor and Qualcomm quad-core 1.9GHz processor. Both of these processors are quite powerful than the iPhone's A6 dual-core chip which is clocked at 1.3GHz. Nevertheless, we don't find a dramatic difference in terms of experience. Also, the Galaxy S4 has 2GB of RAM against the 1GB of iPhone 5.
Storage
Both of these devices are available with exactly the same storage options of 16GB, 32GB and 64GB. However, a microSD card slot is also available in Galaxy S4 which is not present in the iPhone 5.
Cameras
The 8MP rear-facing camera was the standard camera in smartphones last year. The iPhone 5 and Samsung Galaxy S3 both feature 8MP rear-facing camera. But, 2013 is going to be the year of 13MP cameras in smartphones, which is already present in the Galaxy S4. The front-facing camera of Galaxy S4 is also better than that of iPhone at 2MP against 1.2MP. Samsung has included some software-based camera features, such as Sound & Shot, Drama Shot, and Dual Camera.
Battery
When it comes to the battery life Samsung's device looks stronger than the Apple's iPhone 5.  The removable 2,600mAh battery of Galaxy S4 seems much powerful than the non-removable 1,440 battery of iPhone 5. Apple boasts the battery life of 8 hours for its device.
Author Bio: Harold Peterson, a professional blogger, writes about latest technology and gadgets in the market. Visit his tech blog to learn more about samsung Galaxy siv vs iPhone 5 specs and other amazing discoveries in the world of technology.