Be A Blogger Series – Part 5: All about Links in WordPress
In most cases with a blog post, we often tend to provide or share some links with our readers. For instance, you might want to link exchange or even share links to other blogs or any particular important website for lots of reasons. WordPress is the most friendly blogging platform that allows us to create a Links Menu and show them up nicely on the website in a menu or widgets for easy navigation.
How it works with Blogger!
If you are familiar with  Blogger.com , you might also be familiar with "Blog List", "Link List" and "List". These are gadgets that you need to add and they basically display links to other blogs or websites which are your favorite (see image below).
How it works with WordPress!
The same way you can add external links in WordPress blog. In WordPress, you can distinguish links by assigning Link Categories. This is very similar to how we assign categories to posts.
Click on Links menu.  You will get three options: Links, Add New and Link Categories (see image below).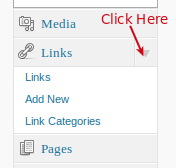 Click on Add New to get started with adding links for the blog. WordPress by default provides a Link Category which is named "Blogroll".
The default Blogroll category cannot be deleted but we can rename it.
We can assign only Link Categories to links and not assign categories that were created for posts.
Click on Link Categories and we can add new categories.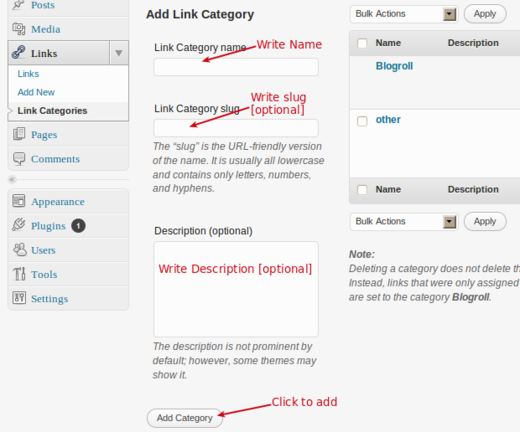 Click on Add New option and we get the area where you can add external links. Here we can add Name, URL, Description and assign Categories for the link.
Related Settings
For displaying these links in the blog with WordPress, we need to use widgets or menus. Once you click on Widgets on the sidebar of the Dashboard, we can drag and drop the Link Widget where we want the links to be displayed on the blog.
Summary
Like Blogger.com , we can also show links to our favorite blogging websites with WordPress. This is possible on Blogger.com only by adding gadgets. With WordPress, we can not only add links on the blog directly but also display them based on the categories.
Previous posts in this Series:
Be A Blogger Series – Part 1: How to install WordPress
Be A Blogger Series – Part 2: Say Hello to WordPress Dashboard
Be A Blogger Series – Part 3: Writing and Editing posts with WordPress
Be A Blogger Series – Part 4: Everything You Need to Know about WordPress Media Manager