New Year's Resolutions: An Oath To Yourself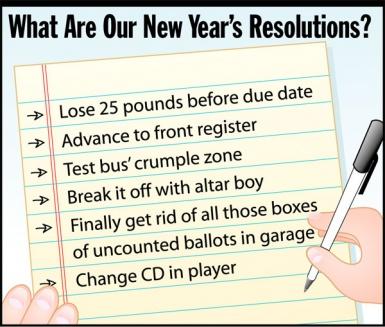 We've entered that time of the year again, where we've given a new calendar year. It's a time where most of us make New Year's resolutions to bring about changes we want to see in our life. It's a time where we set new goals. So what are your goals for the New Year 2013? What are your New Year resolutions? What changes do you plan to bring about in your life starting in 2013? More importantly, what oath do you want to make to yourself?
According to a particular survey, about 40 to 45 percent American adults make one or more New Year resolutions each year and interestingly, most of them abandon their resolutions by the second week of January. In the rank of the most chosen New Year resolutions, quitting smoking, losing weight, exercise are in the top three.
In this article, I'd like to put forward some suggestions that might help you carry out your New Year's resolution list quite successfully.  I'd like to see you stick out your New Year resolution for at least two weeks.
First of all my suggestion is to be clear on your goals, be very specific and then write it down. Choose a realistic resolution. For example, losing weight is a general goal but setting a more specific goal is more realistic. For example, set a goal to lose 80 pounds in 80 days. Most people quit because their goal is too big. Take small steps at a time every day to achieve your goal. It's true that slow and steady wins the race. So don't be desperate and in a great rush to achieve your goal.
Making a New Year's resolution does not mean you need to wait till New Year's eve to make any oath to yourself. Focus on the present! What's the thing you can do right now to reach your goal? Most obviously, you need to be aware of the oath. You can have a buddy, mentor or someone close to you that you have to report to.
But above all, the most important fact is, never take yourself seriously. Try to take life easily! Laugh at yourself when you slip in reaching your goal but don't let the falls or mistakes hold you back. Best of luck and Happy New Year 2013! I hope that it brings you everything you dream of and the happiness you deserve.